Youkey Theatre | Lakeland, Florida
Relive the magic of the iconic story of Baby and Johnny as Dirty Dancing In Concert comes to town this Wednesday, December 13, at the spectacular Youkey Theatre! You're in for an extraordinary experience as the beloved movie graces the big screen, accompanied by an incredible lineup of talented live singers and a live band. This is a nostalgic movie night that transports you back in time! First released in 1987, Dirty Dancing whisks us back to the early sixties, immersing us in the unforgettable journey of Baby and her family as they embark on a life-changing adventure at the Kellerman's holiday camp. Surrender to the irresistible melodies that have captivated hearts for decades including the Academy Award-winning best original song "The Time of My Life." Don't miss Dirty Dancing In Concert LIVE and the encore party! Secure your tickets for an evening where you are about to have the time of your life!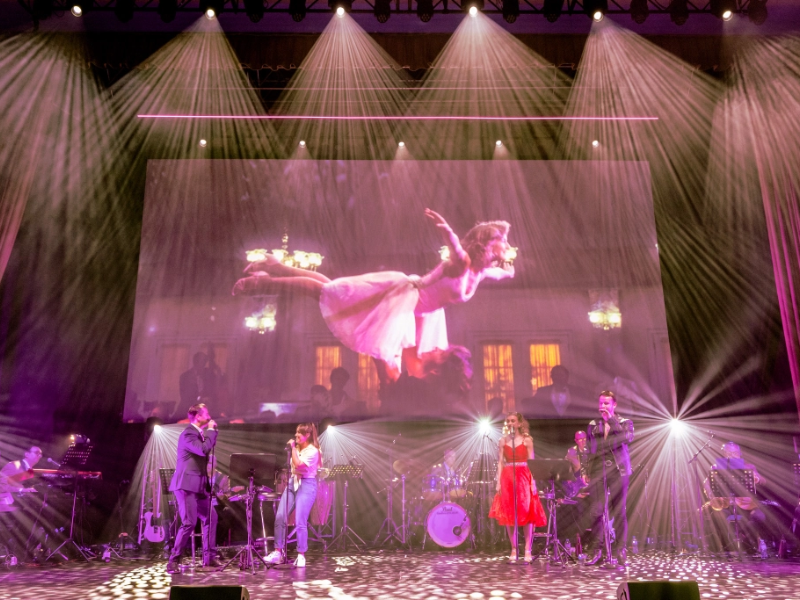 Prepare to be swept away as global content leader Lionsgate, GEA Live, Karl Sydow, and Innovation Arts & Entertainment join forces to bring you an unforgettable event: Dirty Dancing In Concert! Get ready to relive the timeless romance of Baby and Johnny like never before. It's a one-of-a-kind experience that will reignite your love for the iconic music that defined a generation!
In 1987, Dirty Dancing, a film masterpiece written by Eleanor Bergstein, directed by Emile Ardolino, and featuring the iconic Patrick Swayze and Jennifer Grey, became a global sensation. The captivating storyline, memorable soundtrack, and chart-topping singles, including the Academy Award®-winning "The Time of My Life," made it a hit with audiences worldwide. It grossed over $213 million globally and remains an unforgettable classic.
Travel back to the summer of 1963, when Baby Houseman and her family take a trip to Kellerman's, a charming Catskills resort. During her stay, Baby falls under the spell of the lovely dance teacher, Johnny Castle, and is captivated by the exciting world of dance and the rush of first love. The memories of that summer will stay with her forever.
Experience the unforgettable Dirty Dancing in Concert show, where you can witness the digitally remastered film projected on a full-size cinema screen. Enjoy the iconic songs performed live by a phenomenal five-piece band and talented vocalists, perfectly synchronized with the on-screen action. But that's not all! Stay for the exhilarating encore party and indulge in singing, dancing, and reliving the magic of Dirty Dancing with the energetic band playing all your favorite songs from the film.
Whether you have been a fan of Dirty Dancing for a long time or are watching it for the first time, this film-to-concert event is guaranteed to capture your attention and bring you joy. Come and experience an exceptional event at the Youkey Theatre – a venue known for its commitment to excellence. The theatre boasts state-of-the-art facilities and impeccable design, providing the perfect backdrop for the upcoming Dirty Dancing in Concert. Mark your calendars for Wednesday, December 13, and get ready to be swept off your feet. You're in for the time of your life!