Youkey Theatre - RP Funding Center | Lakeland, Florida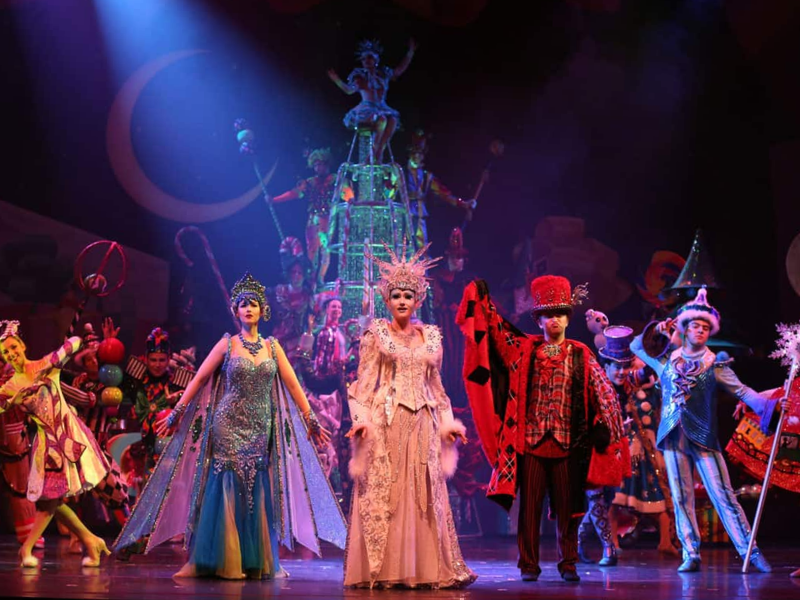 Welcome the winds of winter jubilee on November 18 as Cirque Dreams: Holidaze graces the stage of the Youkey Theatre! See the world through the eyes of a child in this 90-minute festival celebrating the holiday spirit! Gasp in breathless awe as contortionists twist into otherworldly shapes and acrobats flit and flutter through the air. In a whirlwind of 300 unique costumes, classic holiday characters come to life in elaborate ballet numbers backed with an original score, featuring reimagined jingles like "Rockin' Around the Christmas Tree" and "Carol of the Bells." Cirque Dreams: Holidaze embarks on a nationwide tour through 70 cities in 7 weeks. The troupe will jump-start the November series of shows in Lakeland, California's Youkey Theatre, an indoor venue offering the best on-stage facilities and audience comfort. Book your tickets now to see Cirque Dreams: Holidaze LIVE on Saturday, November 18, at the Youkey Theatre in California.
The holiday season comes rolling in with high-flying finesse on November 18 as Cirque Dreams: Holidaze soars through the Youkey Theatre! Bring your family to watch the contemporary circus artistry that stole the hearts of millions worldwide!
"I don't have enough superlatives to cover all of the emotions I experienced in watching these amazing artists… All in all, it was an evening of magic and miracles."
Neil Goldberg's franchise has made quite a yuletide tradition–three decades now and counting–and it returns this year merrier than ever! Cirque Dreams: Holidaze is touring across the nation coast-to-coast, with 70 city stops in 7 weeks and a whopping 60 shows scheduled!
Kicking off the November series, the cirque will hit Lakeland City, California. Here, audiences can experience the event in elevated splendor thanks to the indoor Youkey Theatre's Broadway-style backdrop, 2218 comfortable seats, and fully equipped on-stage light and sound facilities.
Classic holiday characters spring into life in this 90-minute exhibition of winter festivities and stunts that defy death and gravity. Penguins, reindeer, toy soldiers, nutcrackers, candy canes, and gingerbread men! Feast your eyes on breathtaking dance and ballet numbers, zipping and zooming in a flurry of over 300 vibrant costumes.
The show's music, an original instrumental score, will also feature modern renditions of traditional jingles such as "Rockin' Around the Christmas Tree" and "Carol of the Bells."
And, of course, the event's pièce de résistance is a legion of aerialists, acrobats, jugglers, contortionists, and many more circus acts! Feel your jaw drop in disbelief as these performers twist and turn and twirl in the most awe-inspiring stunts and mid-air flair.
"There is usually an expectation when you go to see a theatre piece of what you are going to see and when the curtain comes up. This catches audiences so off guard because they have no idea that this Swarovski crystalled landscape of costumes and gift boxes and magic is on the other side of the curtain. So there is an audible gasp in the theatre," shares producer-director Neil Goldberg when asked what his favorite part of the production is.
Give your family a surprise gift before December comes around the corner! Cirque Dreams: Holidaze is coming to you LIVE at the Youkey Theatre on Saturday, November 18, 2023. Go out and grab those tickets now!